ANKER PowerPort Speed 5 5-Port USB Charger

Keep your mobile devices and power banks fully charged with the PowerPort Speed 5 5-Port USB Charger from Anker. Two of the five ports on the PowerPort Speed 5 are compatible with Qualcomm Quick Charge 3.0 technology. Each QC 3.0 port can output a maximum of 3A of power. The remaining three ports share a total output of 4.8A, with a single port capable of recharging a device with up to 2.4A of power. All five ports support Anker's PowerIQ and VoltageBoost technologies, which are designed to charge your devices as fast and safely as possible.

PowerIQ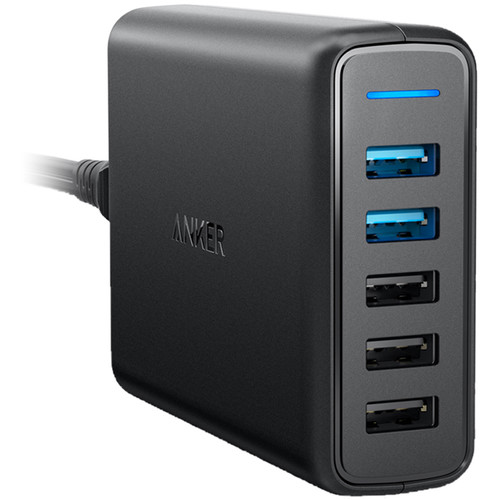 Anker's PowerIQ technology is designed to intelligently communicate with connected devices to determine their specific charging capabilities, and then provide them with the fastest charge possible.
VoltageBoost

Anker's VoltageBoost technology is engineered to compensate for your cable's resistance in order to smooth the voltage output of the charger. Without this interference, your devices have the ability to reach the fastest recharge rate possible.
Safety Features

Anker includes a MultiPoint safety system to help keep your mobile devices protected while charging. The system includes surge protection, short circuit protection , and temperature control.
Premium Design

A durable matte exterior is designed to resist scuffs and scratches, while the high-gloss detailing and cool blue power LED give the charger a sleek look.
Anker 63W 5 power Port Charger A2054L11